Photo by encore.org
On the shuttle to the Phoenix airport, I turned to my fellow passenger. We both had just attended a multi-day conference. Because of her late flight into Phoenix and her earlier than usual flight out of Phoenix, she was at the conference for less than 48 hours. I was curious.  I asked her, "What was the highlight for you in your brief time at the conference?" She mentioned a couple of different sessions, none of which I had attended. And then she thought again and said,
"Every single person I talked to was interesting.  Maybe because each person is so passionate about what they are doing.  That just doesn't happen at other conferences."  
I wholeheartedly agreed.
What was this conference that we attended? It was the annual conference for Encore.org, a non-profit dedicated to "building a movement to make it easier for millions of people to pursue encore careers – second acts for the greater good". Their vision is "to produce a windfall of talent to help solve society's greatest problems".  (Don't you just love that image, a windfall of talent?) Their founder, Marc Freedman, is the author of several books, including the best-selling, Encore: Finding Work That Matters in the Second Half of Life.
But this is about more than books and conferences.  The morning after returning from Phoenix,  a coaching client asked, "How are you?"  To which I replied, "Tired, but filled up."  I then went on to tell him about meeting entrepreneurs who are having huge social impact in the world.  He asked me skeptically, "Is this a bunch of rich people talking about doing good, or people who have actually done it?"  It clicked for me why the people I met had been so interesting. I quickly replied, "The latter." (BTW–the picture above is of Barbara Chandler Allen, a woman who is quoted  in one of my all-time favorite books, A Whole New Mind, for her work with the Charter High School for Architecture and Design. Nearly a decade later, she was featured in another book, Your Life Calling, based on a completely different endeavor, Fresh Artists. Allen's non-profit helps to create "child philanthropists", while supplying funding for art supplies to underfunded public schools and children's artwork in corporate workplaces.  I met Allen at the conference. When I think of how best to describe her,  "force of nature" comes to mind.)
Interesting, passionate, people who take an idea for doing good in the world and make it real.
But that isn't all.  Something else made the people I met so remarkable.
On the first night after arriving at the conference, I attended the Purpose Prize award ceremony, given to social innovators over 60 who are working to advance the social good.  The Purpose Prize comes with a significant financial reward, anywhere from $25,000 to $100,000.  Of this year's 800+ applicants, just six are chosen for the Purpose Prize.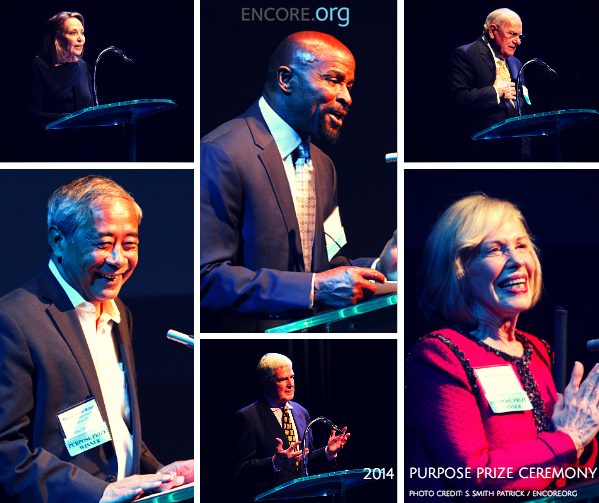 The recipients each gave an acceptance speech. They could not have been more different in their cause (from equine therapy that reverses the effects of autism to helping the blind find jobs to turningaround children in low- performing schools, using brain science on stress) or their delivery (folksy vs. force to be reckoned with) or the focus of their acceptance speech (as a vehicle to further educate the audience vs. a dedication to one's mother).
What was common was this: Humility.  The metrics surrounding the winners'  work are impressive. Tens of thousands of  students impacted in 86 high poverty public schools, 45,000 families helped by 28,000 volunteers mobilized in 45 disasters around the world, 91 free equine therapy centers transforming the lives of 5,000 children.  And yet, speaker after speaker came to the podium, with words that deflected their greatness and embraced others'.  One winner actually said, "I didn't do anything."
I cannot adequately describe the impact this juxtaposition had on me–greatness cloaked in humility.  I mentioned this to one of past Purpose Prize winners at a luncheon the next day, Gary Maxworthy. His explanation?  "None of us got into this to win prizes."  He was alluding to another trait of the encore world, service.
Interesting, passionate, people who take an idea for doing good in the world and make it real. These are people who put forth humility, even as their greatness is in plain sight, motivated by a sense of service.
As I talked to more interesting people at the conference doing interesting things, I was struck by two other characteristics in the encore world:
Interesting, passionate, people who take an idea for doing good in the world and make it real. These are people who put forth humility, even as their greatness is in plain sight, motivated by a sense of service.  Imaginative systems thinkers.
If you are thinking, "I could never be one of those people", think again.  The road to an encore career is not brilliance or intelligence or competence.
The road to an encore career is paved with the willingness to try–to apply who you are to work that has the potential for impact and meaning, to re-purpose yourself.  Anyone and everyone can do that.
My thanks to Marci Alboher and the crew at Encore.org for a wonderful three days. I left Phoenix inspired and filled with gratitude, for the connections made to interesting people, doing interesting things.
PS. If you are boundary crosser, like me, plan to attend the Encore Conference in 2015. In no other place have I found so many kindred spirits.